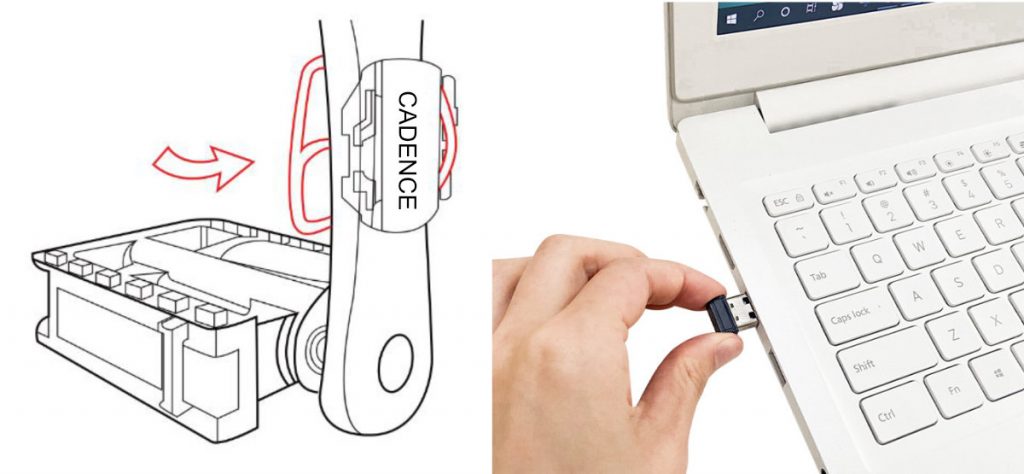 SIMATHLON cycling simulation enables offline training, gamification and basic statistics of your cycling exercises (distance cycled, time, cadence …). For the simulation to work properly, you need any cadence sensor, which you clamp around the pedal of your chosen bicycle before use, and an ANT + USB receiver. Place your ANT+ USB receiver in the USB slot of your computer, on which you will run the cycling simulation, that you downloaded from our website. When you purchase the simulation, you will receive an activation code via your e-mail address within the next 24 hours, with which you can generate your unique (UNLOCK) code on this page. Fill in all the required information and then press the Unlock button. You can find the number of your ANT+ id in the upper right corner of the home screen, when you run the simulation, that you downloaded from our website. Then enter the newly generated code in the field after clicking on the "UNLOCK" button on the home screen in your installed simulation (otherwise you do not need a web connection to use Simathlon). If your computer does not install your ANT+ USB receiver drivers correctly, make sure you have all the driver updates installed inside operating system Windows on your computer. You can also purchase these sensors together with the simulation in our online store. Simathlon simulation is not yet available for MAC and mobile devices, but we will be able to offer this to our users very soon.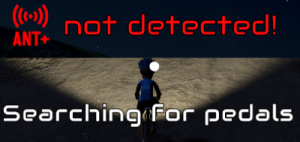 Current Simathlon version: v 2.0
Technical support and instructions,
night light for cycling at night,
graphic settings (resolutions),
heart rate ANT+ data display,
ANT+ smart trainers and power meters compatibility,
improved downhill and uphill driving experience,
added animals along the road.
DEMO (TRIAL) VERSION OF SIMATHLON SIMULATION
Download one of the selected Simathlon virtual cycling landscapes from the internet and expand it to any location. After expanding it to the simulation folder, open exe file. It allows you unlimited use of a short bike route – without a subscription or the need for an internet connection.
You must have an USB ANT + receiver installed on your computer and you must have any cadence (rpm) sensor mounted on the pedal of your selected bike. It can be mounted with an elastic band or simply glued to the pedal bracket. If the ANT + receiver is not installed correctly, a message will be waiting for you in the main menu: ANT + not detected (see picture below). In this case, check that the drivers are installed correctly. If your device does not install the drivers for your ANT + USB receiver correctly, make sure that you have all the driver updates installed inside operating system Windows, on your computer. You must not use another program that also needs an ANT + receiver (eg. Zwift) to operate. You can also buy the mentioned sensors together with the simulation in our online store. Simulation is not yet available for MAC and mobile devices, but we will be offering this to our users very soon. Attach the cadence sensor (see figure above) to the pedal crank of your selected bike with an elastic band before use (or attach it to the crank with adhesive).
When the sensors are installed correctly, the ANT + id number of your cadence sensor, power meter or smart trainer will be displayed in the main menu in the upper right corner. Start pedaling to check if the simulation is working properly with your sensors.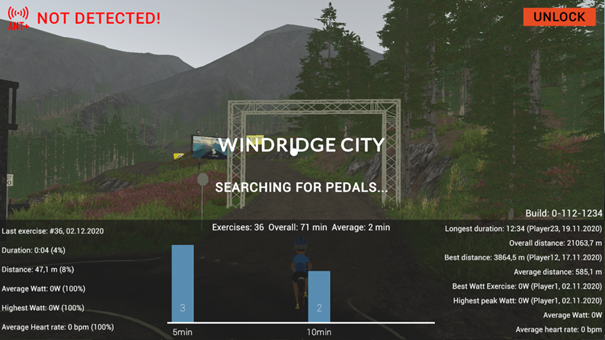 INSTRUCTIONS FOR USE AFTER SUCCESSFUL INSTALLATION OF THE SIMULATION
When you have installed these sensors correctly and run the downloaded simulation on your computer, pay attention to the following elements. A window appears before each workout notifying you that you are using the home version. You can close it by pressing the ENTER key or with your mouse (click on the CLOSE button). You do not need to press any keys to start your adventure. As soon as you start cycling, you start recording your training time, and at the same time you will simulate riding through a virtual cycling landscape. During exercise, distance, current speed, cycling time, and current cadence (RPM) data are displayed. If you use a powermeter instead of a cadence, you will also see information about your current watts (W). Additionally, you can also use a heart rate monitor to obtain HRT data. You can click to view and purchase accessories here. The speed of moving along the virtual road will also depend on the surface. You will have to pedal faster to overcome the slopes, while you will be able to rest a bit when descending (individual inclinations will be detected in the simulation, which is reflected at your current speed on the screen). You can finish the workout by not cycling for 30 seconds (the workout time is then reset and the simulation is ready to record a new workout). After the workout, you will see statistics, where you can compare your current workout with the average results of all workouts. To exit to the desktop, press the ESC key and when the new window appears, press the F2 key (Exit Simathlon).
There is one longer cycling routes available after activation. But you can download various landscapes (free short track included) from our archive. You will be able to cycle through them with a one-time purchase.
FULL VERSION OF SIMATHLON SIMULATION
At the web address, enter the received activation code and your ANT + id number of your cadence sensor, which was displayed in the upper right corner of the home screen within the simulation, when installed correctly. Also enter your first and last name and your email address. Then, by clicking on the UNLOCK button, a new unique "unlock" code will be displayed.
Copy the newly generated ("unlock") code and enter it (or copy and then paste it) inside the Simathlon demo version. You have the UNLOCK option in the upper right window. You can click in this field and then enter the mentioned code. You will see that the landscape is now unlocked (UNLOCKED), thus successfully completing the process of unlocking the full (paid) version of the selected cycling landscape. Congratulations!
USE OF SIMATHLON CYCLING SIMULATION
Enrich your cycling exercise by playing energetic music.
In addition to interactive driving on a virtual road, data on speed, distance, cadence, watts (if you have a powermeter or smart trainer / not a condition /), heart rate (if you have a heart rate monitor / is not a condition /) and a 5-minute countdown, exercise duration and a comparison of the current time with the average duration of all recorded exercises are displayed.
After the exercise, the basic statistics of the performed exercise, a comparison of the performed exercise with the average of all recorded exercises, a graphic presentation of all recorded exercises (in an interval of 5 minutes) and the best individual achievements (recorded date and exercise number) are displayed.
Save your code, as you can install it indefinitely on computers, but it will only work with your registered sensor (which you must also be careful not to lose, as once registered, SIMATHLON simulation will not work with other (new) sensors. In case of sensor loss, a new code will need to be purchased.
MINIMAL TECHNICAL REQUIREMENTS FOR THE USE OF SIMATHLON CYCLING SIMULATION
What are the minimum required technical specifications (low quality settings) for proper use of the Simathlon cycling simulation?
Operating system: Windows 7 x64 bit / x32 bit or later,
processor: Intel Core 2 Duo or later,
memory: at least 4 GB,
graphics card: 1 GB dedicated GPU, or embedded Intel HD 4000 / AMD R5 or later,
hard drive: at least 2 GB of free space.
Do you have concerns about successfully connecting Simathlon at home? Do you have the right equipment to arrange your cycling corner? We fully advise you on the use of suitable equipment and offer all after-sales support. For all questions, we are available via our e-mail [email protected] or on the telephone numbers 041 541 004 (Janez) or 041 747 234 (Primož), every day between 8.00 and 18.00.